Scientific electronic library eLIBRARY.RU is the largest Russian information and analytical portal in the field of science, technology, medicine and education, containing abstracts and full texts of more than 19 million scientific articles and publications, including electronic versions of more than 3900 Russian scientific and technical journals, Of which more than 2,800 journals are publicly available.
---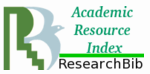 ResearchBib is open access with high standard indexing database for researchers and publishers. Research Bible may freely index journals, research papers, call for papers, research position.
---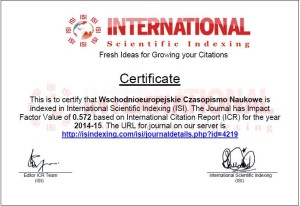 This is to certify that Wschodnioeuropejskie Czasopismo Naukowe is indexed in International Scientific Indexing (ISI). The Journal has Impact Factor Value of 0.572 based on International Citation Report (ICR) for the year 2014-15
---

Founded in 2006 with the goal of making knowledge sharing easy, Slideshare joined the LinkedIn family in 2012 and has since grown into a top destination for professional content. With over 18 million uploads in 40 content categories, it is today one of the top 100 most-visited websites in the world.